Doreen Montgomery, socialite who was recently dumped by her ex husband for a younger piece of arm candy (and just wait till you learn who that is!) takes her dog and heads for the only place she can. Her grandmother had recently moved into a retirement home and Doreen was going to move into her home. She ultimately found out that along with the house came a very large coon cat and a green African parrot who had exemplary speaking skills!
She noticed her dog had something in his mouth--when she finally managed to take it from him she was a bit shocked--it was a human finger! She had no idea who had dug this up, the cat or the dog--but called the local police department.
The finger had been found in her grandmother's overgrown garden--and Doreen was just afraid that they would blame her grandmother. The police uncovered the entire body! She ends up getting involved looking for clues much to the concern of Corporal Mack Moreau who keeps trying to tell her to keep her nose out of police business.
This book had me laughing out loud at all that was going on--you are going to love all 3 of the animals!
About the Book
: (from Amazon)
A new cozy mystery series from USA Today best-selling author Dale Mayer. Follow gardener and amateur sleuth Doreen Montgomery—and her amusing and mostly lovable cat, dog, and parrot—as they catch murderers and solve crimes in lovely Kelowna, British Columbia.
Riches to rags. … Controlling to chaos. … But murder … seriously?
After her ex-husband leaves her high and dry, former socialite Doreen Montgomery's chance at a new life comes in the form of her grandmother, Nan's, dilapidated old house in picturesque Kelowna … and the added job of caring for the animals Nan couldn't take into assisted living with her: Thaddeus, the loquacious African gray parrot with a ripe vocabulary, and his buddy, Goliath, a monster-size cat with an equally monstrous attitude.
It's the new start Doreen and her beloved basset hound, Mugs, desperately need. But, just as things start to look up for Doreen, Goliath the cat and Mugs the dog find a human finger in Nan's overrun garden.
And not just a finger. Once the police start digging, the rest of the body turns up and turns out to be connected to an old unsolved crime.
With her grandmother as the prime suspect, Doreen soon finds herself stumbling over clues and getting on Corporal Mack Moreau's last nerve, as she does her best to prove her beloved Nan innocent of murder.
Read a Chapter or Two Here
Purchase the Book Here
About the Author
: (from Amazon)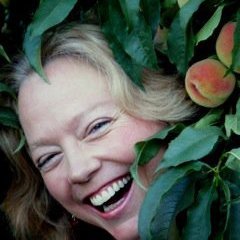 Dale Mayer is a USA Today bestselling author best known for her Psychic Visions and Family Blood Ties series. Her contemporary romances are raw and full of passion and emotion (Second Chances, SKIN), her thrillers will keep you guessing (By Death series), and her romantic comedies will keep you giggling (It's a Dog's Life and Charmin Marvin Romantic Comedy series).
She honors the stories that come to her - and some of them are crazy and break all the rules and cross multiple genres!
To go with her fiction, she also writes nonfiction in many different fields with books available on resume writing, companion gardening and the US mortgage system. She has recently published her Career Essentials Series. All her books are available in print and ebook format.
To find out more about Dale and her books, visit her at http://www.dalemayer.com. Or connect with her online with Twitter at www.twitter.com/dalemayer and on Facebook at www.facebook.com/dalemayer.author. If you like Dale Mayer's books and are interested in joining her street team, sign up here - https://www.facebook.com/groups/402384989872660/
Author's Website
Facebook
Twitter
Bookbub
Goodreads
All opinions expressed are my own honest opinions. For more information please check my
Disclosure Statement. Our giveaways are in no way sponsored or promoted by Facebook or Google.