This information is brought to you by EvgieNev Wall decals. All opinions are my own.


There are so many decals to choose from--whether you want to brighten up a child's room, your master bedroom or even your living room--I am sure you will find one that will be exactly what you have in mind!

Is it time to redecorate your walls? Paining a room is a lot of work. You have to remove the faceplates and get around the trim and the ceiling. I have found a better and easier way to change up a room. With EvgieNev wall decals you can easily change out the scene in a room and even customize your color scheme. EvgieNev Decals have charismatic charters, action designs that develops intellectual curiosity and emotional feelings. There are lots of live animals and natural surroundings. You will find scenes from Africa, South America, Antarctica, etc.
Here are a few of our favorite ways to redecorate your walls with Wall Decals from EvgieNev: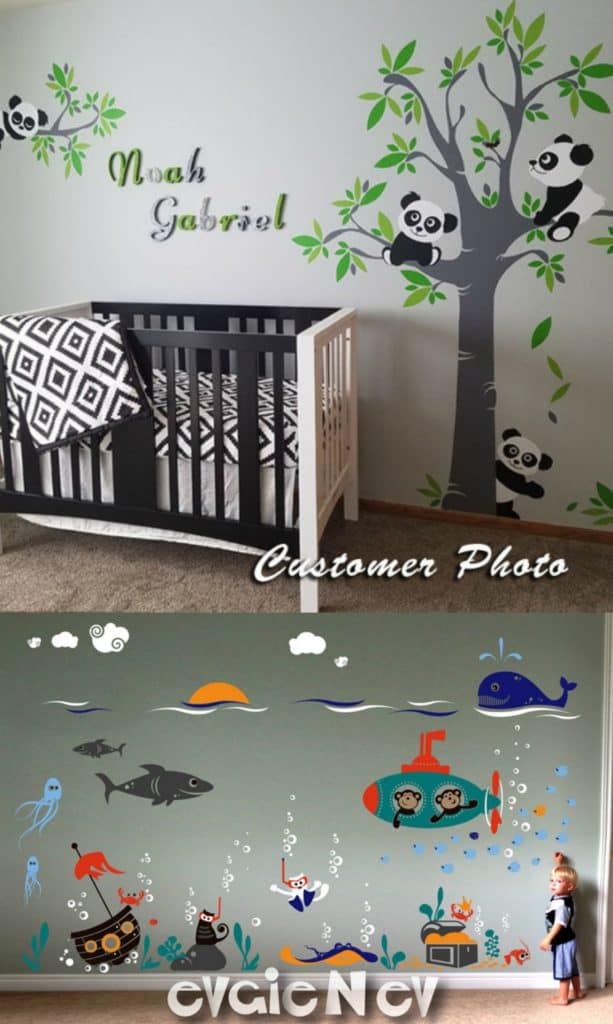 The giant panda, also known as panda bear or simply panda, is the cutest in the world bear native to south central China. It is easily recognized by the large distinctive black patches around its eyes, over the ears, and across its round body. Panda's adorable personality has been employed multiple times in movies starting from The Amazing Panda Adventure and continued lately in Kung-Fu Panda animation which is a must to watch for every child on planet Earth.
This underwater all decal has Cats Scuba Divers and Submarine Monkeys with Sunken Pirate Ship, Octopus, and Shark .
Evgie nursery wall decals from Jungle Safari collection has been crafted especially to brighten the playroom and animate jungle themed nursery with African animals and recognized characters such as Lion King or Tarzan.
Stunning Pioneer Time wall decals theme featuring First Nation playing camp with TeePee, Canoe, friendly Black Bear, Campfire and Eagle, set on natural landscape and surrounded by Mountains, Clouds and Stars, this is a very warm illustrative setup promoting empathy and imagination of play time while highlighting Indigenous People history and spirit
Mind-blowing Outer Space wall decals theme featuring Custom Flag Name with space-walking Anstronauts, spaceship, aliens, asteroids and dots to create constellations.
Giraffe with Jungle Monkeys Wall Decals is handmade using Top-Quality Matte Vinyl. Quick update and add your personal touch to any space, switch themes in child's room. Just peel and stick, it's so easy!
About EvgieNev Wall Decals:
EvgieNev
makes it easy to order beautiful AND removable wall decals! They are easy to apply, and to remove when you are ready for a new look. Your kids will love them. It could be exactly what you ned to finish your nursery!
EvgieNev can also do custom decals of pretty much whatever you can think of! They can adjust colors, sizes – if you can image it they can do it!
All the elements come separately and can be arrange any way you'd like. You can even order custom colors. And a FREE testing decal is included. The vinyl decals from EvgieNev are made of top-quality matte vinyl. Perfect to decorate and add your personal touch to any space or switch themes in child's room.
More Reasons to Shop at Evgie.com
100% SATISFACTION – If it turns you don't love your decal you may ship it back, and they will refund your money.
FREE test decal for you to practice on and EASY Step-by-step detailed instructions.
They can adjust the decal size larger or smaller and add additional colors. Contact them for pricing.
They offer custom designs. If you have an idea in mind of a custom design, let them know.
Giveaway Details:
Ends December 29,2018 at 1159pm EST
Prize - $150 Credit to Use on Wall Decals at Evgie.
Open to US and Canadian residents. (If the winner lives outside of the US or Canada they can still win - they just need to pay the difference in shipping.
Disclosure: Blogger is not responsible to fulfill the prize. The prize is fulfilled by EvgieNev.
I received an entry in the giveaway form for helping to promote this giveaway. All opinions expressed are my own honest opinions. For more information please check my
Disclosure Statement. Our giveaways are in no way sponsored or promoted by Facebook or Google.