I have been reading Le-an's writing for a while. She is one of the bloggers who I have gotten to know through a facebook group. I kept telling her to get published-well she did and asked if I would read it and review it. Of course I said yes. Le-an attempted to send me a pdf copy but my computer would not read it-so I went in and bought the book! I recognized a couple of the short stories from the blog-others were brand new to me. I enjoyed reading them all. English is not Le-an's native tongue and there are quite a few grammatical errors but I was able to overlook them. These short stories tell of every kind of love and/or relationships that happen in life. I enjoyed reading these one at a time--I took my time on this book and let the stories sink into my soul! I love her disclaimer page!
"Everything in this book has been written entirely by the author, edited and reviewed by a lot of other people. All characters, places and time have been taken out of reality, though the stories are mostly fiction.   It should not be taken, quoted or extracted without the consent of the writer, as the law and karma would come back and haunt you and your great grandchildren.

You've been warned.   Some of these stories have been published to the author's blog, dimperfectprincess.blogspot.com, but have been edited and rewritten plenty of times for this book.

For any violent reactions and negative actions you may want to do to this book, please do so as long as you bought it.   You can contact the writer through her email, lean.lacaba@ gmail.com. Or you could just throw your curses and rotten tomatoes to the wind where you won't hurt anyone."
About the Book
: (from Amazon)
Less than three is a collection of short stories, each made with less than three thousand words. Inspired by real life stories, they have been woven together to pull and tug heartstrings. Written by a young writer who isn't your everyday sappy romantic, Less than three offers delight and warmth, with a bit of the hard hitting realities of life.
You can read a story here
You can purchase the book here
About the Author
: (from her blog)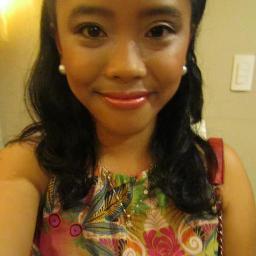 Picture from Twitter
I am Le-an Lai A. Lacaba-yes my name has a dash. I was born on October 4,1995 (that makes her approx 18!) to my two loving parents, Leonardo Lacaba and Romana Lacaba. I am the eldest of four,-this is getting boring so let's make this interesting. Click the video! If you go to her blog and click the about me tab she has a really nice video!
Facebook
Twitter
I purchased this book with mt own funds. All opinions expressed are my own honest opinions. For more information please check my
Disclosure Statement. Our giveaways are in no way sponsored or promoted by Facebook.