This one will really keep you reading to try and figure out who is killing strawberry blond women. And why is Dana being followed by a man in a mask who actually let her live a few years back. Dana is a PI--her brother is a police officer and is always trying to get Dana to step back--she is stubborn and wants to find out what happened to the missing girls. She does things that are a lot dangerous and thinks nothing of it!!
She does figure it out and nearly gets killed in the process. Lots of action and twists and turns which will keep you guessing!
About the Book
: (from Amazon)
When a standard medical procedure ends with a girl missing and another dead, the case lands on Dana's desk to solve before time runs out.
Kidnappings, deceit, and murder—this is Dana Mulder's life as a private investigator since she started working her latest case. Her search for a missing woman leads to a prominent doctor who abducts his patients after their surgeries, but all the evidence is circumstantial. Teaming up with her detective brother and his partner, Dana discovers more bodies and links cold cases with similar MOs. All the while being hunted by the man who left her for dead, who's back and wanting more.
Can she solve the mystery before stumbling over another dead body—or before a savage maniac turns her into one?
A fast-paced thriller with unforgettable characters and spine-chilling suspense. DEADLY PATTERN is part of a gripping complete series that will leave you turning pages late into the night.
Read a Chapter or Two Here
Purchase the Book Here
About the Author
: (from Amazon)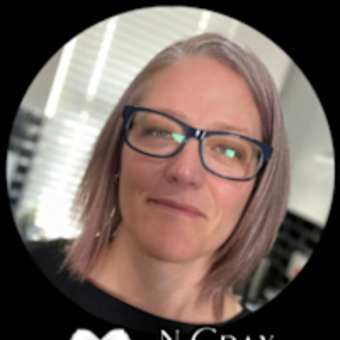 N Gray lives in Cape Town, South Africa with her daughter. During the day she's an analyst and provider profiler for a medical insurance company. At night, she types on her curved keyboard creating fictional characters some may love, and others you want to kill yourself.
She writes in four genres; urban fantasy, thriller, horror and paranormal romance. There's a series out in each but only recently dipped her toes in PNR.
To know more sign up for her no-spam newsletter and receive a free ebook: https://www.ngraybooks.com/join-my-newsletter
Authors Website
Facebook
Twitter
Bookbub
Goodreads
All opinions expressed are my own honest opinions. For more information please check my
Disclosure Statement. Our giveaways are in no way sponsored or promoted by Facebook or Google.