Click here to read more about Modern Oats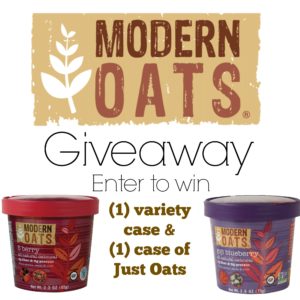 I personally LOVE that all you have to do is shake it up--then add boiling water!! I no longer have a microwave and actually I don't miss it. But I am forever skipping breakfast and boxed cereal gets boring after a while! I would love to have some hot oatmeal on occasion and if you go in to check (which I did)-the varieties are many and all sound so good! Now to get my hands on that Vermont Maple!!
Modern Oats is taking a boring breakfast up a notch. Starting with the highest grade of gluten-free, Non-GMO Verified perfect oats and paring with delicious blends of fruits and nuts. Modern Oats has carefully chosen family farmers and plant in fields where no wheat is subject to cross contamination. Modern Oats knows that an estimated 21,000,000 Americans require Gluten-Free diet and they are Certified Gluten Free. Modern Oats is Vegan certified and also carries "Non-GMO Project Verified Seal". Meaning their verification is an assurance that a product has been produced according to consensus-based best practices for GMO avoidance. Now you have a chance to win 2 cases of these stellar oats!
This giveaway is Sponsored by: Modern Oats
Modern Oats Giveaway
MamatheFox and all participating blogs are not held responsible fore sponsors who fail to fulfill their prize obligations.
All opinions expressed are my own honest opinions. For more information please check my
Disclosure Statement. Our giveaways are in no way sponsored or promoted by Facebook.