Sometimes it is the female who is afraid of relationships-Jana is one of them. She appears carefree and totally in control of herself and her life to the rest of the world--but is totally the opposite deep inside. Some hurts sustained don't heal. Hunter-one of the bigger playboys around is no better. When they end up together--sparks fly--and not only good ones. These two are like peas in a pod.
Hunter falls hard eventually--Jana does too but will not admit it. What Hunter goes through-well I ALMOST feel sorry for him. Will these two be able to connect on a deeper level and still remain friends (with definite benefits). You will have to read to find out. I do have to caution you that this one is HOT & STEAMY yet at the same time a sensitive story of two people who have to learn to heal themselves and each other.
SEASIDE SUMMERS BOOK #6
Voted Beck Valley Books Reviewers Favorite Mini Series from the Love in Bloom Series in 2014
Featuring a group of fun, sexy, and emotional friends who gather each summer at their Cape Cod cottages. They're funny, flawed, and will have you begging to enter their circle of friends. You met them in READ, WRITE, LOVE, (The Remingtons, Book 5), follow these friends on their search for forever love in the Seaside Summers series.
SEASIDE EMBRACE
After working hard all day, creating his beautiful metal sculptures, sinfully sexy Hunter Lacroux likes to unwind with a hot, sexy babe--or two. But after spending a handful of naughty nights with seductive and beautiful Jana Garner, the woman who challenges everything he does and says, Hunter wants more.
As a dancer, boxer, actress, and waitress, Jana is tough, organized, and as dedicated as she is committed. She has to be to maintain her crazy schedule. But when it comes to men, Jana's had a string of bad relationships, and there's only thing she'll commit to--not committing.
White-hot passion ignites every time Jana and Hunter are together, but the closer Hunter gets, the faster Jana runs. When Hunter lays on the charm, Jana throws out a challenge she's sure he can't meet, and Hunter steps up to the plate, forcing her to face her hurtful past or let go of him forever.
SEASIDE EMBRACE is part of the SEASIDE SUMMERS series, and the newest addition to the "Love in Bloom" family. Each book may be read as a stand-alone novel, or as part of the series.
**CONTENT WARNING: Due to mature content, recommended for readers aged 18+**
Available to buy from......
About Melissa Foster

Melissa Foster is a New York Times & USA Today bestselling and award-winning author. She writes sexy and heartwarming contemporary romance, new adult romance (M/F, M/M, F/F), romantic suspense, thrillers, and historical fiction with emotionally compelling characters that stay with you long after you turn the last page. Melissa also co-writes the Love on Rockwell Island series with New York Times bestselling author Bella Andre. Melissa's emotional journeys are lovingly erotic and always family oriented. Her books have been recommended by USA Today's book blog, Hagerstown Magazine, The Patriot, and several other print venues. She is the founder of the World Literary Café. When she's not writing, Melissa helps authors navigate the publishing industry through her author training programs on Fostering Success.
Melissa has painted and donated several murals to The Hospital for Sick Children in Washington, DC. Her interests include her family, reading, writing, painting, friends, helping others see the positive side of life, and visiting Cape Cod.
Find Melissa on the following sites....
I received this book to review through
Beck Valley Books Book Tours
, all the opinions above are 100% my own.
ALSO AVAILABLE IN THE
LOVE IN BLOOM SERIES

...
NOW FOR THE AUTHOR'S GIVEAWAY !!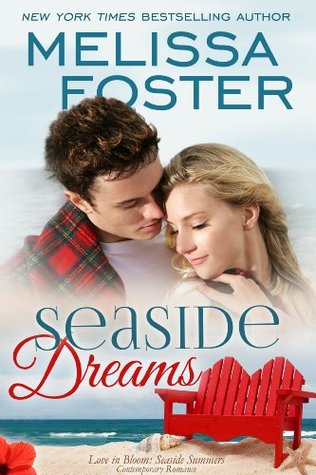 Win Seaside Dreams, Seaside Summers #1 ebook
Two Winners
Ending on Sunday 20th March at 11.59pm EST
Open Worldwide
Enter Below & Good Luck !!
All opinions expressed are my own honest opinions. For more information please check my
Disclosure Statement. Our giveaways are in no way sponsored or promoted by Facebook.