This is a book everybody with a teen should read, anyone with a child actually. Zoe's tale as revealed in her computer diary after her death will both sadden and enlighten you. The Tumultuous life led by this unassuming teen, unknown to all but a very few close friends (who did not even know the whole story). She lived with a guilt that no one should have to live with. She lived with a depression so deep no one could seen to alleviate it, if they even noticed it. Unless it is to start a discussion with your child I am not certain at all that they should read this-but that is up to you.
This author certainly did not pull any punches as he describes the bullying, the rape and the eventual accidental death of this teen. Or was it an accident--I wonder----
About the Book:
(from Amazon)
It all started with a little secret…
Zoe Von Lynskey is a typical 13-year-old girl with an idyllic life and a bright future ahead of her—that is, until her 16-year-old brother is accidently shot by his friend Kirk Anderson. But is Josh's death truly an accident? Zoe suspects not. Kirk's parents and Zoe's parents are friends, and the two dads work for the same company, but Kirk has always been a bully to Zoe. With her big brother no longer there to protect her, she is now alone and vulnerable.
When Zoe makes a fatal decision to protect herself against Kirk, her world begins to crumble under the weight of her secret. Her computer diary is her only confidant as she documents the wrenching depression, anxiety, partying, pregnancy, and suicide attempt that result.
Everyone Has Their Little Secrets is a sharply observant and moving portrait of a teenager grappling with very adult problems—a stunning coming-of-age novel that pulls no punches.
Read a chapter or two here
Purchase the book here
About the Author:
(from Amazon)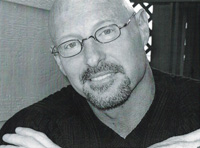 Michael Louthan was born in Enid, Oklahoma, and grew up in southwest Kansas. He graduated from Wichita State University, where he received his bachelor's degree in Business Administration and was a member of the Phi Delta Theta fraternity. For the last twenty years Michael has lived in New Orleans.
Goodreads
Twitter
Facebook
Outskirts Press & Author's Website
I received a paperback edition of this book for review purposes. All opinions expressed are my own honest opinions. For more information please check my
Disclosure Statement. Our giveaways are in no way sponsored or promoted by Facebook.