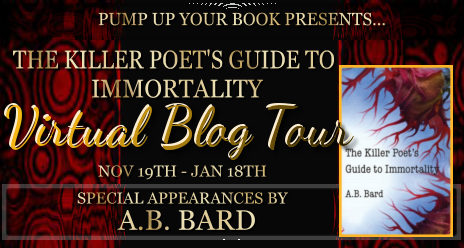 About the Book:


The Killer Poet's Guide to Immortality is the riveting tale of a frustrated poet who decides that the best way to get his work read is by pinning it to corpses with a dagger. Alternately profound and hilarious, this novel chronicles in rapid-fire succession AB Bard's obsessive murder spree, rise to media notoriety, capture, trial, and execution by lethal injection.
Then it presses further, into the future . . .
This book can be purchased at Amazon, Barnes & Noble and where ever fine books are sold.
About the Author
Reclusive Seattle author AB Bard's poetry has twice been nominated for the Pushcart. He is the author under a pseudonym of two other hysterical novels, or perhaps historical novels, neither of which is funny. Mr. Bard is not now, nor has he ever been, a member of the Republican Party. Mr. Bard does not Tweet. He was awarded a sheepskin (BAaa) from Reed College Sleeper Cell. His one super power is the ability to repel all conventional measures of literary success. Mr. Bard is lap to a cat, pal to a girl, God to a dog, & dog to the Man.
To find out more, please visit him at http://www.abbard.com
I was not paid cash for this post. All opinions expressed are my own honest opinions. For more information please check my
Disclosure Statement. Our giveaways are in no way sponsored or promoted by Facebook.